Signode's safety initiatives win accolades from esteemed customers
March 01, 2023
Signode has always laid emphasis on the significance of safety at workplace. Our initiatives over the years, have helped us create a positive safety culture which is deeply embedded in our value system, naturally extending at our customer locations as well.
Two of our highly esteemed customers, Tata Steel and JSW BPSL Sambalpur have recognised our safety initiatives, further bolstering our efforts towards 'Zero Harm'.
JSW BPSL Sambalpur has honoured Signode as the 'Best Safety Performer' during the opening ceremony of the National Safety Day celebrations. Signode has been bestowed with this honour after a detailed evaluation of all vendors working in JSW's BPSL plant.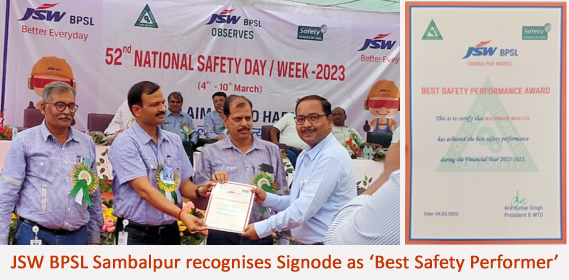 Tata Steel has acknowledged Signode's significant contribution towards promoting a safety culture with a 'Safety Torch Bearer Award'.

At Signode we are committed to providing our employees and our customers a safe, accident-free work environment. To accomplish this goal, we've instituted several comprehensive and innovative safety initiatives and are continuously identifying areas to improve.
We thank Tata Steel & JSW BPSL Sambalpur for reposing their confidence in us. We attribute our success to the mutual trust between the two organizations that organically stems out of our long-standing association.