Pharmaceuticals Application
Application:
Pharmaceuticals/Vials and Injectables
Challenge
:
For any industry, end-of-line packaging is critical to ensuring products get to market in their original condition. A poorly packaged pallet coupled with an improperly loaded truck results in shifting and unstable loads that can cause product damage as well as unloading and stacking issues at AS/RS or final destinations. For a pharmaceutical company that specialized in vials and injectables, their existing end-of-line packaging couldn't withstand the transportation cycle. From incurred damage costs to lost productivity due to restacking, they continued to modify their truck loads to mitigate damage, which merely resulted in rising transportation costs.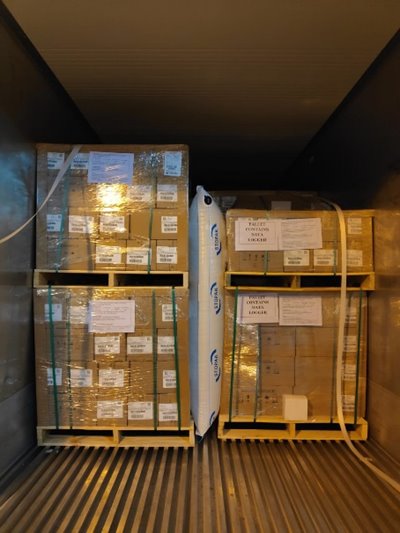 Solution:
Signode analyzed the customer's end-of-line packaging materials, shipping constraints and loading techniques. To improve overall load stability, they replaced the customer's polypropylene strap with
Tenax®
polyester strapping. Tenax polyester strapping provides maximum load stability for loads that shrink and settle during transit. Plus, its excellent elongation and recovery characteristics help straps stay tight and absorb impacts without breaking. Keeping space maximization in mind, Signode then incorporated an
edge board
to further enhance load stability and strength, so the customer could stack pallets two high in the truck optimizing space. Finally, to minimize shifting, Signode integrated AAR approved
air bags
to fully stabilize and provide added protection to the loads during transit.
Results:
50% less in transportation costs
48% more pallets per truck load - Enhanced space utilization with reduced shipping cost per pallet
Improved product safety through better packaging
Reduced in transit damages
Increased productivity
Eliminated repacking/stacking at destination
Using their industry knowledge and comprehensive product line, Signode was able to incorporate an end-of-line packaging solution that helped improve load stability, while enabling the customer to increase the number of pallets in a truck load to reduce transportation costs.
Request a demo

(Opens in a new window)