Application:
Brick cubes
Challenge
:
In a typical brick packaging station, the most common strapping machine uses the MHT-80 plastic strapping head which weighs over 300 lbs. These strapping heads, mounted at the top of the strapping station, require special equipment for removal, creating long-term production interruptions and downtime for any type of maintenance. In addition, with a top-mounted configuration, strapping head maintenance poses increased challenges for operators doing upkeep.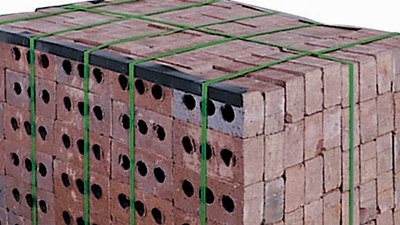 Solution:
Signode integrated their modular
Z-20 plastic strapping heads
into the customer's existing brick packaging equipment. The Z-20 modular heads is designed to reduce maintenance costs and accommodate up to 20% faster production speeds. They feature a simple, modular design that requires less maintenance than traditional strapping heads. The heads, both lightweight and easily accessible, can be removed and replaced within a matter of minutes, drastically reducing downtime for preventative maintenance or any other issues.
In addition, the Z-20 heads utilize
high-strength Tenax® plastic strapping
. This High-strength Tenax, engineered specifically for the brick industry, not only improves the overall quality of brick loads, but is manufactured to create less debris during the tensioning and welding process further minimizing routine maintenance requirements.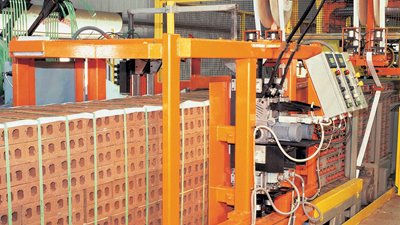 Results:
30 minutes Less overtime/day - Increased productivity
50% Less downtime - Fewer production interruptions for maintenance
$102,323 Annual savings in labor due to faster cycle times
4% Fewer missed straps
By converting to Z-20 modular heads, the customer was able to increase productivity and save money, while reducing downtime associated with maintenance.
Request a demo

(Opens in a new window)