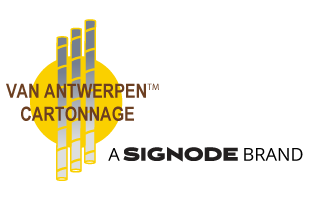 Van Antwerpen Cartonnage
Signode's, Van Antwerpen Cartonnage products were initially sold in 1954 in the form of bitumen tubes. After bitumen was no longer permitted, water-resistant tubes and cores were made from thickly coated materials for certain industrial customers. Signode's current Van Antwerpen Cartonnage product line includes a number of different products using one production method, which is a continuous process of sealing strips of paper or cardboard together. The Van Antwerpen Cartonnage product range consists of various types of round cartons and corner profiles. These are delivered on order to industrial or private customers.
Cost Efficient
Using products to provide faster project progress as well as reducing concrete supply costs
Easy Application
Easy to apply and dismantle according to requirements
Customisable
Available to meet your needs, Signode is capable of producing deviating diameters
Durable
Products are lightweight and the use of products without the need of a crane. Products are also long lasting.
Flexibility and Application
In addition to the standard diameters, it is possible to produce deviating diameters. These diameters can vary from 38 mm to 1200 mm. The wall thickness of the cores can vary from 1 mm for the smaller diameters to 6 mm for the larger diameters. The application of Signode's Van Antwerpen Cartonnage products such as Monotub DD, are brilliant for the construction industry following rigorous research and development as well as multiple specifications to meet all needs.
Cores and Stretch Film
Cores have been widely used for many years as a wrapping core for stretch wrapping film. Film winding companies opt for the core because it allows a higher winding speed on their machines. Due to the special sealing process, Signode's Van Antwerpen Cartonnage cores have a higher strength than regular glued cores. The core is proven within tape converters due to sealing procedure facilitating less dust during the cutting process.