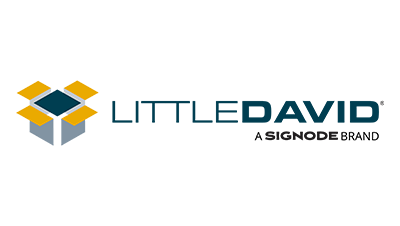 Little David
Founded in 1962 by Winton Loveland and Saul Warshaw developed the first case sealing packaging machine. This machine applied gummed tape to seal corrugated boxes. This is where Little David started with the ambition to improve efficiency of end-of-line packing operations and minimise shrinkage during transit. To reflect the growing popularity of pressure-sensitive tape, in 1975 the Little David Case Sealer line was born. Little David developed a solution to automatically apply pressure-sensitive tape to corrugated boxes. For the first time, even relatively low volume manufacturers could enjoy the benefits of factory automation.
Unmatched Versatility
Affording our customers the opportunity to successfully process cases of different dimensions, corrugated quality and fill levels.
Highly Efficient
Little David products build with efficiency in mind to enhance end-of line packing operations.
Automation
Rapidly automate your packing process, integrating the case sealing and case erecting machines into your packaging line.
Research and Development
Industry leading research and development through Signode robust process focused on identifying customers unmet needs and requirements.
High Quality Case Packing Machines
Signode has a full range of end-of-line packing solutions. Our markers, coders, case sealer, case former and case erector products, inkjet label printers, case sealing machines, and packaging equipment are among the most reliable in the packaging industry. Reduce labor and operating costs with PackPoint, our fully integrated packaging line complete with hand packing stations.
Little David and PackPoint
In 2013 PackPoint was launched, a complete packaging system. This system allows users to form, pack, seal, print and label your products. This integrated system will support the enhancement of efficient operations as well as enhance the speed of your packaging solutions. To find out more about this complete packaging solution visit the product page here.