Treated Lumber Application
Application:
Treated Lumber
Challenge:
From treated lumber to OSB strand board, the wood products industry features rigorous standards where the end-of-line packaging equipment and processes must withstand demanding environments. When a wood treating mill was expanding their processing capabilities, they looked to well-known industry suppliers for an automatic strapping machine to accommodate their new lumber stacking system. Previously, the customer utilized competitive equipment that was able to satisfy their production requirements but historically was difficult to service and required increased maintenance as a result of the harsh environment. Going forward, the customer was looking for a solution that would meet their production requirements, while minimizing maintenance and downtime.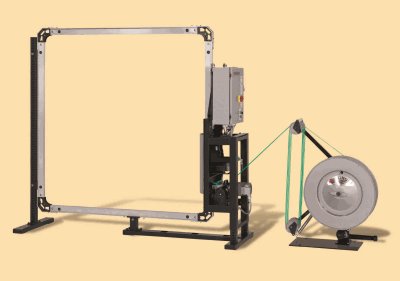 Solution:
Working in conjunction with the stacker mill OEM, Signode integrated an
MH-11/16 side seal strapping system
. The MH-11/16 combines high-speed, reliable operation with simplified maintenance to maximize productivity and reduce downtime. It features modular heads that are lightweight, easily accessible and contain 40% fewer parts than the competitive one-piece head that the customer was originally using. To further reduce overall maintenance requirements, the MH-11/16 utilizes Signode's patented embossed
Tenax®
which is specially designed to minimize dust during the welding process, which results in less wear and tear on the equipment. Finally, to maximize productivity, Signode incorporated their PSD-119SJ powered jumbo coil dispensers, which hold strap coils three times larger than the traditional strap coil, significantly reducing coil changeovers.
Results:
99% Uptime - Increased productivity through less maintenance
40% Fewer Parts – Less maintenance
Fewer Coil Changeovers
Decreased machine wear
Simplified maintenance requirements with modular technology
Reduced downtime for coil changeovers
Increased overall load stability
Since implementing the MH-11/16, the customer was able to increase overall productivity, while reducing maintenance requirements and time. In addition, the conversion to Signode embossed Tenax resulted in greater retained tension for better overall load stability.